May 25, 2023
At The Keynote Curators, we're constantly curating fresh and exciting keynote speakers with ideas worth sharing and exciting entertainers who move audiences. Today's spotlight is on Syncopated Ladies, a female tap dance performance band from Los Angeles, created by Emmy Award-nominated tap dancer and choreographer Chloe Arnold, a protege of Debbie Allen.
---
🤔 Did you know today is National Tap Dance Day? In 1989, Former President George H. W. Bush declared May 25 "National Tap Dance Day" to commemorate the birth of Bill "Bojangles" Robinson and his contributions to tap dance performance. Observing the day means celebrating the contributions of all Black and immigrant artists.
The fierce footwork of Syncopated Ladies pays electrifying homage to the art of tap dance. The most-viewed female tap dance band in history with more than 100 million views, Syncopated Ladies was propelled to fame after Beyoncé admired the group's re-creation of her "Formation" song. Noting that "they killed it," Beyoncé shared their video on social media, transformed her homepage to feature the group's dance, and invited them to perform live internationally.
Maud Arnold, who produced and choreographed the performance with her sister, Chloe, an Emmy-nominated choreographer and protégé of dance legend Debbie Allen, told the Huffington Post they "wanted to start a movement to show how powerful black women in tap dance are."
In addition to collaborating with Beyoncé, the group has performed to sold-out audiences worldwide in their full-length concert, "Syncopated Ladies: Live!," and received praise from countless celebrities and news outlets. Past appearances include CNN's New Year's Eve Live, Good Morning America, The Late Late Show with James Corden, The Kelly Clarkson Show, So You Think You Can Dance, The Ellen DeGeneres Show, Global Citizen Week, New York Fashion Week, Essence Fest, Imagine Justice (featuring Common, J. Cole, and Andra Day), Glamour Women of the Year Awards, Billie Jean King Leadership Initiative at the US Open, JP Morgan Chase Women on the Move at Radio City Musical Hall, CFDA/Vogue Fashion Fund, Women in the World Summit at Lincoln Center, Democratic National Convention and many more.
📩 Interested in having this extraordinary female dance group perform at your next event? Check out Syncopated Ladies' profile, or drop me a DM to inquire about their fees and availability.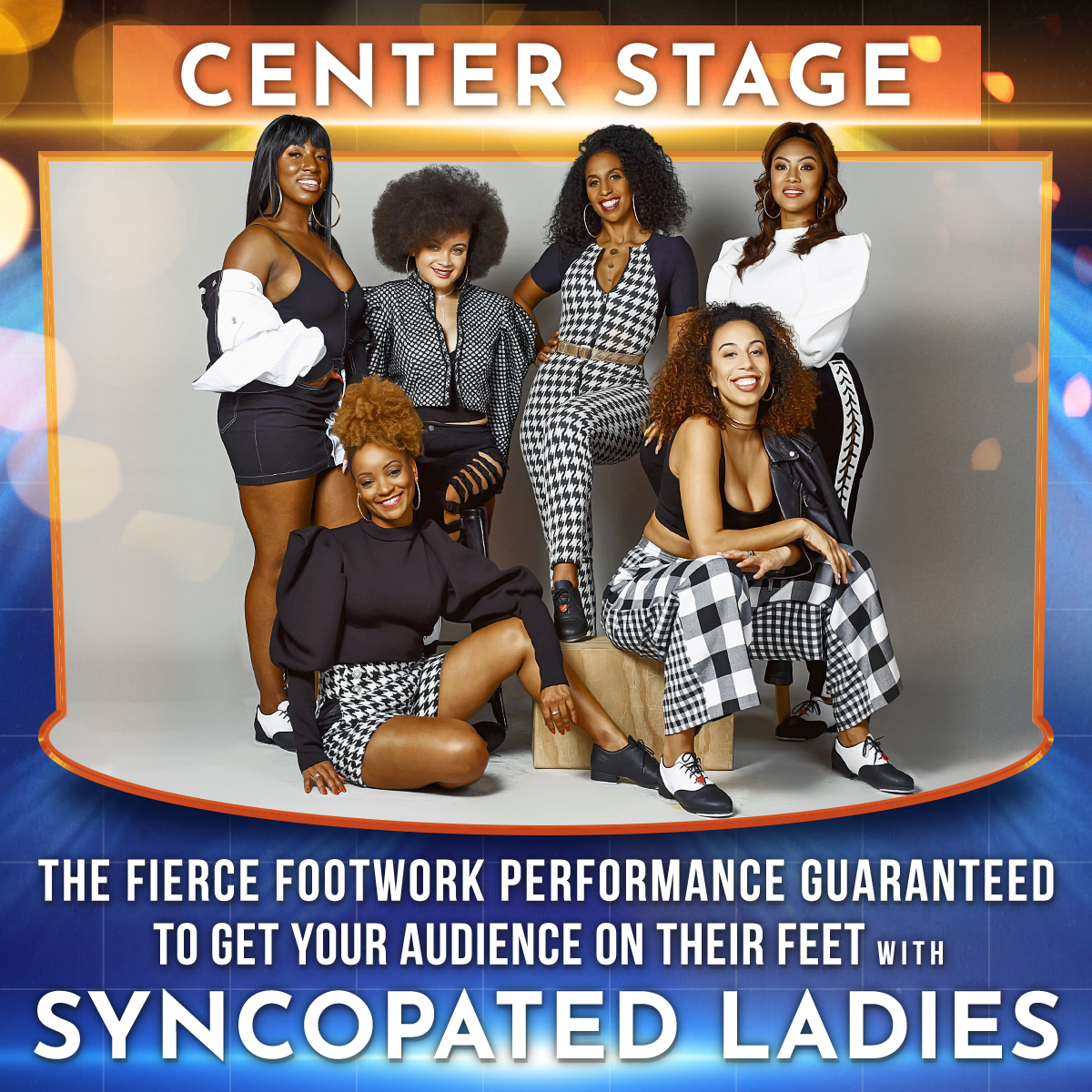 Tags: dance, diversity, Emmy Award, empowerment, entertainment, entrepreneurs, inspirational, motivational, music, performance, social change, social justice, tap dance, TED speaker, Women's Empowerment